June 11th, 2013 at 4:18 pm -
REJOICE KINGDOM HEARTS FANS! Kingdom Hearts 3 is finally coming and is currently in development! Kingdom Hearts 3 will be available for the PlayStation 4 and Xbox One. Wii U is currently not planned at this moment. Even though that information may be enough for some, Square Enix and Tetsuya Nomura have been able to provide us with more details including the battle system, story and which developer is working on the game.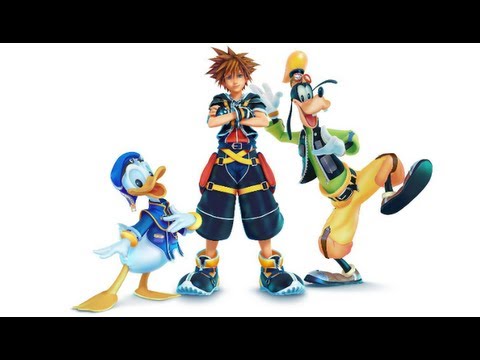 According to Square Enix's press release, "Kingdom Hearts III features a mature Sora as the main protagonist who sets forth on an adventure with Mickey, Donald and Goofy through new and legendary Disney worlds." In addition to that, "Kingdom Hearts III will make full use of next generation console technologies to showcase a stunning universe packed full of worlds based on Disney properties."
The plot of Kingdom Hearts III revolves around Master Xehenort trying to keep balance between light and darkness by sparking a war against the "tyranny of light." Throughout the game, Sora, Donald and Goofy look for the remaining seven guardians of light and the "Key to Return Hearts." Meanwhile, King Mickey and Riku will search for previous Keyblade wielders.
During the Future of Final Fantasy conference at E3, it was also announced that the Osaka studio who created Kingdom Hearts: Dream Drop Distance is working on the project (as I previous predicted) while the initial Kingdom Hearts team is working on Final Fantasy XV. This may cause some fans to worry but Dream Drop Distance, in my opinion, is one of the best in the series and helped evolve the series' battle system with the new Flowmotion mechanic. Flowmotion allowed Sora to bounce off walls and jump off enemies which leads to believe the Osaka team have the next generation creativity that the franchise needs to move forward.
Unlike the previous portable iterations of the game, Kingdom Hearts III will return to a party based format and what seems like the drive system if the initial gameplay teaser is to be believed. Nomura during an interview on the Square's Event YouTube channel, however, has stated that he believes the gameplay system is sticking to what the core games are known for but may add some inclusions from the experimental gameplay mechanics within the portable titles as well.
Are you excited by the news? Comment below and look out for upcoming articles about Kingdom Hearts III including the Worlds I Want To See In Kingdom Hearts.